At the end of a long day spent talking about his latest movie while holed up at his Beverly Hills hotel room, Taylor Lautner looked positively giddy with anticipation. The first words out of the "Twilight" hearthrob's mouth:
"This is the one interview I was looking forward to. Can we talk fantasy football?"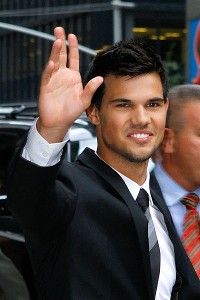 Donna Ward/Getty ImagesTaylor Lautner said he's won a fantasy football crown twice.
Lautner stars in "Abduction," an action-thriller about a teen who must uncover the truth about his past before his past kills him, pretty much. It's Lautner's "Bourne Identity," a big deal for the 19-year-old Grand Rapids native and devout Lions fan. But his thoughts are elsewhere. The fantasy football season is underway, see? And Calvin Johnson waits for no man or ridiculously famous werewolf, even.
I guess we're talking fantasy.
"I'm obsessed. I've only been playing for 3 years, but I've won the championship two of those years. I owe a lot to Calvin Johnson, who I have again this year after a huge trade: I gave up LeSean McCoy --"
Ouch.
"(Laughs.) I know. But, wait, McCoy, Miles Austin and Mike Tolbert for Calvin and Chris Johnson, who I'm hoping will get it going."
Well, is this a PPR league?
"It's not. That would make McCoy more valuable."
Do you get to meet and milk these guys for fantasy advice?
"It's amazing. We filmed "Abduction" in Pittsburgh, so I got to go to Steelers games and meet Big Ben, Hines Ward, Mike Wallace. We filmed "Breaking Dawn" in Baton Rouge, and I became very close with Sean Payton. He put me on the sideline at every home game with my own headset so I could listen as he talked to Drew Brees. A dream come true. But Sean won't give any fantasy nuggets away. I tried, but he knows what I'm up to. "
Back to your movie: a pivotal scene from "Abduction" was shot at PNC Park during a Pirates-Mets game. That can't be easy to pull off.
"Really difficult. The fans are there to watch the game and we barge in with all these cameras and hold up huge signs saying, 'Please don't stare into the cameras.' Which, of course, makes them stare more. (Laughs.) But it was fun. I swapped autographs with Garrett Jones and got to use the batting cage every day."