Stephen Bishop has always fancied himself a performer.
Whether it was swatting home runs or memorizing stand-up comedy routines, the 41-year-old former minor leaguer has a knack for showing up on the big stage. As a child, he dreamed of becoming David Justice, wearing the star outfielder's number in tribute and emulating his swing and mannerisms. The only poster on his wall was of the three-time All-Star.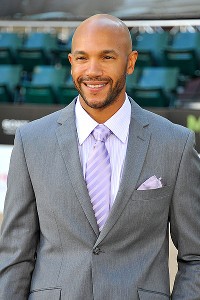 Steve Jennings/Getty ImagesStephen Bishop always dreamed of playing David Justice and he eventually did.
The fantasy nearly became reality; after playing baseball at UC-Riverside, the power-hitting Bishop signed with the Braves out of college and found himself under Justice's wing. He eventually made it to high-A ball for the Baltimore Orioles affiliate in 1995. But when Bishop got released, he was sitting in his living room fielding calls from independent leagues. That's when a little voice in his head told him to go for it.
"Maybe it was God trying to get me off the baseball train and transfer to the train that would lead me to my ultimate destination," said Bishop, who plays his boyhood idol Justice in "Moneyball." "So I called a buddy and saw if he had room on his couch."
Actually, the dream has already kind of come true. Viewers will see Bishop portray when the film debuts nationwide Friday, the once-wide-eyed kid finally stepping into the shoes of his hero and teacher.
"I was his little brother, he's been to my mother's house a few times, he was really a mentor," Bishop said. "Being able to play him down the road is such an honor and such a serendipitous thing. It's crazy, because that was a long, long time ago. To have it come full circle, you have to think that there's some force at work."