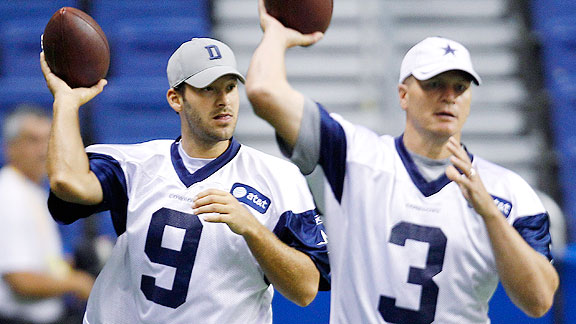 AP Photo/Eric GayTony Romo or Jon Kitna? It appears the tribe has spoken.
Tony Romo had an interesting week.
The Dallas Cowboys quarterback played some football in San Francisco and then left the field apparently because a couple of ribs broke and one of them punctured a lung. Of course Romo has a bunch of ribs (kind of like Tony Roma's) and, fortunately, a spare lung. He went back to the locker room, where he sipped some of that special tea that all NFL doctors have.
He came back.
And that brings us to Jon Kitna, who really had an interesting week. Kitna had replaced Romo on the field as offensive leader of the Cowboys. But then someone essentially said to him: "Thanks, old man, but we'd rather use the guy who has a rib sticking through one of his lungs."
Isn't that, you know, a little insulting?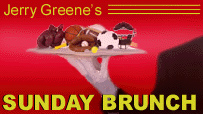 This week Kitna has been leading the team in practice but admits "I try to do things just as he [Romo] would do them." Guess that's why Kitna gave up two interceptions against the Niners. (Oh, that was nasty.)
You know what the Cowboys should do before Monday night's home game against Washington? Trade Kitna to Denver for Tim Tebow. No, silly, not to use Tebow in the game but to have him there to lay hands on Romo if he pops another lung.
Meanwhile, as our top literary chefs put the finishing touches on the Sunday Brunch's main dishes, here are a few tidbits for you to chew: