Kelly Monaco has some advice for soccer star Hope Solo and the other contestants on the 13th season of ABC's "Dancing with the Stars": If you want it, you have to give it your all.
Monaco knows of what she speaks.
"I was driven to win," said the "General Hospital" star Monaco, who teamed with professional dancer Alec Mazo to capture the mirrorball trophy in the first season in 2005. "I didn't realize how many hours I had put in because I had the end goal of capturing the title and I achieved that."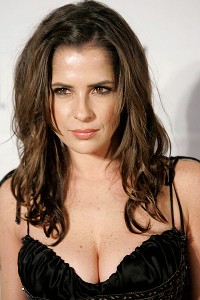 AP Photo/Carlo AllegriDancing champ Kelly Monaco also is starring in a reality show called "Dirty Soap" on E!
On Monday, the 11 remaining contestants -- all pretty much bunched together in scoring -- will be dancing either the jive or quickstep. Solo, who is teaming with Maksim Chmerkovskiy, will need to loosen up if she wants to win. The duo will perform the jive.
Monaco, 35, was born in Philadelphia and grew up in the Poconos, competing in soccer, swimming, track and softball. With her small size of 5 foot 3 and 90 pounds, she moved into theatre and blossomed. She started out on "Baywatch" and then moved to the soap opera "Port Charles" before landing the role of Sam McCall on "General Hospital."
On Friday, the characters portrayed by Monaco and costar Steve Burton were "married" on the long-running soap opera. The filming lasted several days, and the single Monaco said, "At least we don't have to pay for it in real life!"
Burton, who was listening in on our call, said he doesn't have the desire to go the same dancing route as Monaco, even though he travels the country with his singing group Port Chuck.
"I don't dance," said the 41-year-old Burton, who has been married in real life for 12 years. "American wouldn't want to see that."