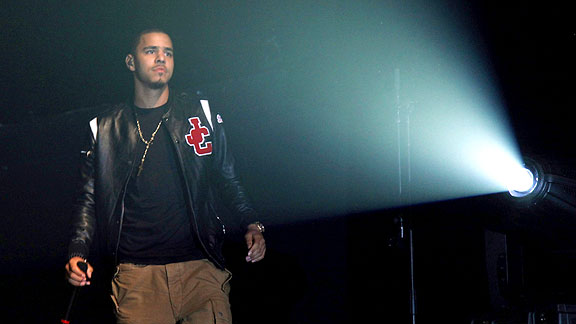 Johnny Nunez/Getty ImagesJ. Cole's debut album "Cole World: The Sideline Story" is being released on Tuesday.
Rising hip-hop star J. Cole and icon Michael Jordan have something interesting in common beyond both of them being from North Carolina.
Cole, like Jordan, was cut from his high school basketball team. Only Cole, a Fayetteville native, wasn't cut once, but twice.
"It was the ultimate motivation," said the 26-year-old Cole, whose highly anticipated debut album, "Cole World: The Sideline Story," is being released on Tuesday. "That's when I started going hard for the first time in my whole life."
Being cut in high school was one of two seminal moments for Cole that involved basketball. The other came at his alma mater, St. John's, where Cole was on the verge of making the team as a walk-on when ... well, we'll let him tell you the story in this Q & A with Page 2.
He'll also discuss his favorite athlete (hint: It's not Michael Jordan), the Duke basketball player he considered to be "trash," and who he thinks is a better player, Kobe or LeBron.
ESPN asked several notable artists, including you, to remake the "Baseball Tonight" theme song. For the last five weeks, your rendition has beat out Steve Earle, Travis Barker and Grupo Fantasma, among others. How do you feel about that?
"I didn't even know they were making it into a contest. If I had, I would have gone so much harder. I would have brought in an orchestra and went crazy."
What did you think about the fact that you knocked off Travis Barker?
"I saw I was going against Travis Barker and I was thinking, 'Yo, it's finished. It's a wrap.' And to make it so bad, Rihanna, my Roc Nation sister, sent out a tweet to her 8 million followers like, 'Hey, vote for Travis Barker' and I was thinking, I'm finished now. But somehow I pulled it out."
Because you're signed to Jay-Z's label [Roc Nation], do you think people have the perception your success came easy?
"I hope not. I know people that listen to me know that it's not. Anybody that's familiar with me, they know it's not because I talk about it a lot. I hope they don't think I have it made because I don't."
What is it like to work with Jay-Z?
"It's incredible. Matter fact, I was talking to him and I'm like, man, I'm super blessed, to say the least. I always thought that I would be signed. I believed I'd get a record deal and I would put out albums, but never, not once, did I ever cross my mind that I could be signed to the greatest to ever do it. Having him just a call away or a text away, get the type of advice that I receive from him, somebody who has been through what I'm going through ... it's just incredible, man. Words can't even really describe the feeling."