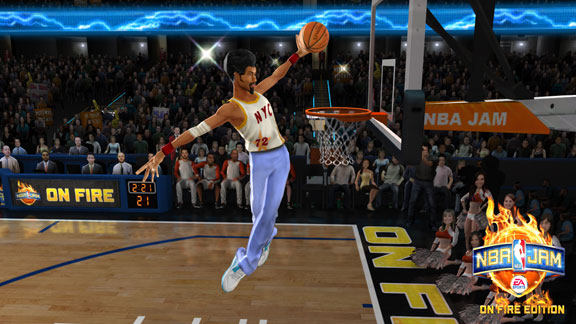 EA SportsStretch takes his team of "Street" ballers to "NBA Jam: On Fire Edition."
"NBA Street" is one of my favorite video game sports franchises of all time. So when I heard that EA Sports was going to put a "Street" team in the new "NBA Jam: On Fire Edition" (October 5, PlayStation 3, Xbox 360), I was not only excited to bust out some of Stretch's sick dunks on a new crop of virtual ballers, I was hoping this might be the spark that gets EA back in the studio and working on the next iteration of "Street."
"I can say right now that there are no plans for another 'Street,' but it's definitely one of those things where we can throw a feeler out there and if the fans dig the team in 'Jam' and they speak up about it, I think it increases the chances of another 'Street' happening," explains "Jam's" creative director, Trey Smith. "We have online telemetry hooks, so we have the ability to track what players and what teams everybody is using, so it's one of those things where if we find out that the 'Street' team is one of the most played teams and that they have a strong following, that gives us that much more ammo to try and get another 'Street' going."
Until then, fans should be excited to play as Stretch and crew in this new arena.
"Anytime you're starting a game in preproduction, you always have a laundry list of stuff you want to get in the game that you didn't get in the previous version," says Smith. "Features like tag mode and team fire are a part of that, then we also had some special teams that we had on the docket that we didn't quite get in the last version. The 'NBA Street' team was at the top of the list. Not only is 'Street' mentioned in just about every comments section whenever something gets posted about 'Jam,' but the fans are out there saying that they want 'Street.' It's also just a natural fit because 'Street' was inspired by the original 'Jam,' so it was a no-brainer for us. We tried to get it done last year, but we didn't have the time to do it right, so we're super-psyched to have them in the game this year.