Welcome back to another edition of Page 2 Jeopardy!, the quiz that tests your knowledge of sports, pop culture and assorted trivia. Please remember to phrase your responses in the form of a question.
(Correct questions at the end of the quiz.)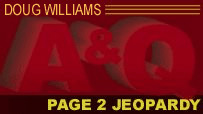 1. Answer: A farmer in Washington has transformed a field of corn into a maze and design honoring this American and MLS soccer standout.
2. Answer: R.E.M. has broken up, but this tennis star says he'll still sing the group's "Losing My Religion" at karaoke bars because "I know all the words."
3. Answer: "He was known for finishing blocks and being a nasty guy, and that's what I always try to do," says this rookie lineman whose uncle was an eight-time All-Pro blocker for the same NFL team.
4. Answer: Former U.S. national soccer standout Alexi Lalas says this about a punk rock legend with whom he plays in a celebrity league: "Never, ever get in his way. He will take you down."
5. Answer: His postgame victory dance, described by one writer as "some form of impromptu celebration dance and/or mating call," has made this college football coach a YouTube sensation this week.
Question 1: Who is Kasey Keller?
Question 2: Who is Andy Murray?
Question 3: Who is Stefen Wisniewski?
Question 4: Who is Steve Jones of the Sex Pistols ?
Question 5: Who is Mike Gundy?