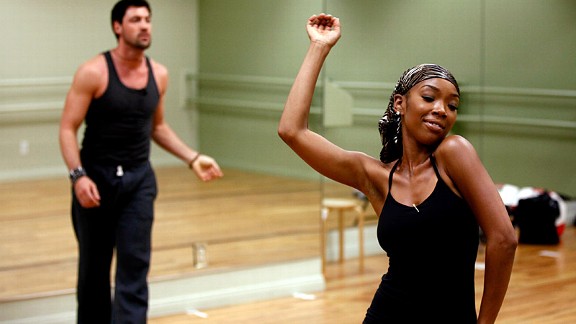 AP Photo/Matt SaylesIn 2010, Brandy partnered with Maksim Chmerkovskiy -- Hope Solo's partner -- and finished fourth.
Brandy Norwood totally understands why soccer star Hope Solo and the other celebrities are nervous on ABC's "Dancing with the Stars."
"They just have to realize that they are already champions just for doing the show," said Brandy, who liked Solo teamed with Maks Chmerkovskiy and finished in fourth place in Season 11. "Hope and all the other contestants will get through this. You will do things you never thought you could do."
For Brandy, doing "Dancing with the Stars" was a liberating experience.
In the mid-1990s, Brandy was on top with a hit TV show "Moesha" and several movie appearances and a music career. Then she struggled through switching record labels and several failed relationships. Her confidence had been broken.
"That was the main reason I did 'Dancing' was because I wanted to face my fears. I just thought that I can't be afraid and stopped running," Brandy said. "That show reawakened my confidence to sing and act. I was finally able to show my personality again."
Now, Brandy is starring in a new reality show on Hub called "Majors and Minors," a talent show for young singers. A dozen kids ages 10-16 get mentored by some of the biggest names in music, including Brandy, Leona Lewis, Avril Lavigne and will.i.am.
"These kids are so talented. I'm just there to give them advice and help them on their journey. No one gets voted off but there will be a winner," said Brandy about the show that debuts Friday at 8 p.m. ET on the cable channel Hub. "It's about celebrating who they already are. We don't want to invalidate them. We don't want to discourage them."
Brandy should know because she started out in the business as a child actor/singer, and at age 32, she is finally at peace.
"I've done some things I'm not proud of, but you can't change the past. You just have to surrender to that," Brandy said. "You have to think about the brighter future. I'm doing that for my daughter, myself and my fans. I'm going forward and being the best I can be."