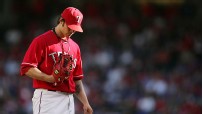 Tim Heitman/US PresswireC.J. Wilson loves seared toro with avocado and ponzu sauce.
While the opening round of the baseball playoffs has most of his attention these days, Texas Rangers' starting pitcher CJ Wilson is also admittedly "kind of obsessed" with food, but it's a vice he's comfortable with. "I don't drink; I don't do drugs; I do food." But the All Star and soon-to-be $10 million free agent takes his food seriously. "I think I have a sophisticated palate because I'm adventurous. I try to find a spot in every city we visit to satisfy any craving from curry to Thai to a big juicy steak."
Choosing one favorite dish is impossible for Wilson--who says New York has the country's best food, but his adopted hometown of Dallas consistently surprises him with its culinary creativity. "My last meal would be two meals," he told us, "some sort of delicious burrito and a seared toro with avocado and ponzu sauce. A seared toro burrito with jalapeno and ponzu sauce?" Sure. Why not?
To read the rest, check it out here at bonappetit.com.