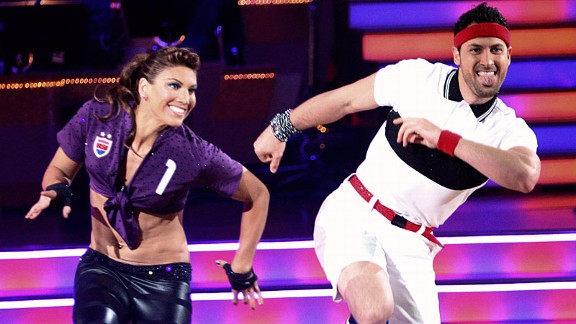 ABC/Adam TaylorHope Solo and Maks Chmerkovskiy will make it into the finals, said former champion Apolo Ohno.
Apolo Anton Ohno is making a bold prediction just a few weeks into ABC's "Dancing with the Stars":
"Hope Solo will make the finals."
Ohno, who won the fourth season of the reality dancing show, doesn't believe that Solo has shown her full potential yet and will turn it on over the next several weeks.
"With a name like Hope, why would she not? That's the coolest name on the planet," said Ohno, who teamed with Julianne Hough to win in 2007. "I'm a big fan of her, not only because she's an athlete. I support her in everything she does."
Solo, who had no formal dance training before this, has been up and down over the first few weeks of the show, showing signs of life and then looking awkward on the dance floor with partner Maksim Chmerkovskiy.
On Monday, each couple will perform either a ballroom or Latin style of dance.
"Remember, I wasn't a dancer when I began," said Ohno, who has won eight Olympic medals in short track speed skating. "I know it's awkward and very difficult. But it's all about repetition. Athletes have a different mental perspective. Athletes have done well for a reason."