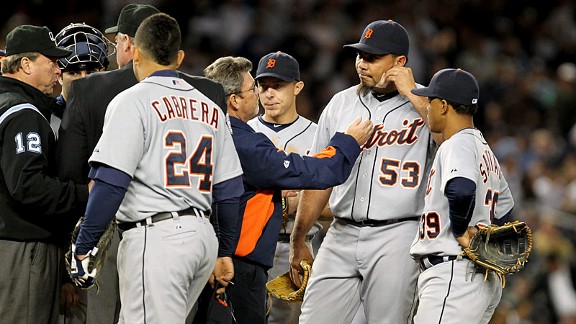 John Munson/US PresswireJoaquin Benoit was ordered to remove this bandage after Yankees manager Joe Girardi complained.
There was a surreal scene during Thursday night's Yankees-Tigers game, as Detroit reliever Joaquin Benoit entered the game wearing a massive bandage on his face, the result of an ingrown hair that he'd unsuccessfully tried to excavate with a pair of tweezers. New York manager Joe Girardi, thinking the bandage could distract the hitters, asked umpire Ted Barrett to do something about it. Barrett then told Benoit to remove it, and the pitcher reluctantly complied, puullllling off the bandage to reveal a nasty-looking boil. Yee-ouch!
The sight of a major league pitcher peeling something off his face right there on the mound is unusual, maybe even unprecedented, but it's hardly the only time something odd has taken place on an MLB mound. Here's a selective sampling of other unlikely occurrences from recent years:
• May 12, 2006: Umps decide that hitters could be distracted by Cubs pitcher Scott Williamson's spotted undersleeves. So a trainer cuts off Williamson's sleeves right there on the mound.
• May 26, 2006: Devil Rays pitcher Scott Kazmir has trouble seeing catcher Toby Hall's signals. So someone brings out a bottle of white-out, which infielder Ty Wigginton applies to Hall's fingernails right there on the mound.
• May 16, 2007: Astros pitcher Chris Sampson takes the mound wearing a a pink hospital wristband, which he had worn while attending the birth of his first child the day before. Home plate ump Bill Welke declares the wristband to be a potential distraction, so an Astros trainer comes out and cuts it off right there on the mound.
• Oct. 5, 2007: A massive swarm of midges swoops down on the Yanks-Indians ALDS game, leading to several pitchers being treated with bug spray right there on the mound.
• Aug. 23, 2011: Angels pitcher Ervin Santana develops a midgame nosebleed and comes out for the fourth inning with some tissue wadded in his left nostril. After giving up a leadoff double and a walk, he removes and discards the tissue right there on the mound (and then rubs his jersey on his nose for bonus gross-out points).
And so on. It remains to be seen where Benoit's bandage will rank in the hierarchy of mound machinations, but it's worth noting that Benoit got the last laugh: He had applied a new bandage for the postgame celebration.