You can pretty much predict what's on 88 percent of NFL players' iPods. It'll be the same zeitgeist hip-hop that their teammates are listening to. But grab Detroit Lions linebacker Justin Durant's headphones and you might catch the 26-year-old rocking out to some Sade. No joke.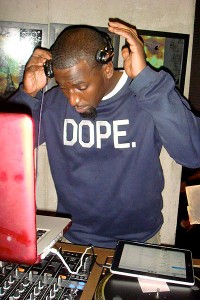 Courtesy of Justin DurantJustin Durant is in New York for four days to learn about the music business.
He doesn't just dig J Cole's new album -- "Cole World: Sideline Story" -- he wrote a review about it on his new music blog for Detroit Metro Times.
A lot of people and players say they love music, and most probably do. Durant, however, is a true music head, and learned to DJ last summer.
We got with the Phil Collins fan recently in a phone interview to kick it about music before his undefeated Lions make a triumphant appearance on "Monday Night Football" against the Chicago Bears.
The Life: So you're a music critic now, huh? How did that pop off?
Durant: My publicist kind of put it out there based on my love of music. So we got on the phone with the paper and set up a little section for me to talk music. Talk about everything, from reviewing albums to any random stuff that I'm listening to. It's like my space to sound off.
The Life: So what are you listening to at the moment? What's in heavy rotation?
Durant: I really, really like the J. Cole. I've been listening to a lot of Nirvana. The Kendrick Lamar, "Section.80." I don't know if you've heard of this act The Weekend, but he's got a new mixtape out called "Thursday." I play that a lot. What else … oh, Anita Baker's "Greatest Hits." I'm all over the place, man. I'm digging "The Best of Sade."