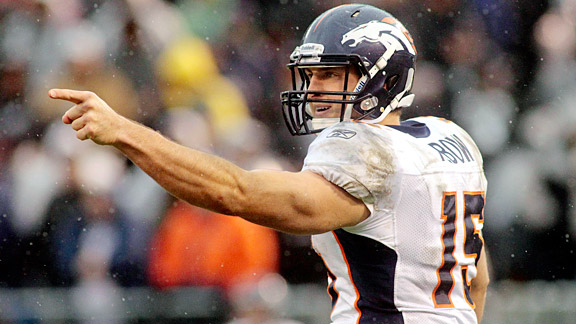 Cary Edmondson/US PresswirePage 2 believes Tim Tebow is a leader whose words should be immortalized in the Mile High City.
Tim Tebow has been named starting quarterback by the Denver Broncos, and Page 2 believes that the move should be commemorated.
So just as Tebow's stirring words after a loss in college are immortalized at Florida Field, we present a similar honor at the professional level.
At the 2010 NFL scouting combine in Indianapolis, Tebow mesmerized former Broncos coach Josh McDaniels with his enthusiasm and offered a legendary quote about meeting with the Broncos' brain trust.
So although McDaniels has been supplanted by John Fox, Tebow's words will live forever in Denver.
• Click here to check out Page 2's plaque of Broncos starting quarterback Tim Tebow