Twenty years ago, actor Tate Donovan jumped into the Pacific Ocean to learn how to surf. He got too close to another surfer on one attempt, and that dude didn't like it.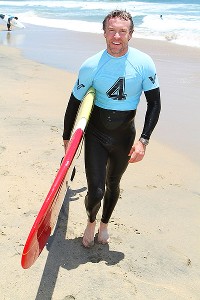 Joe Scarnici/FilmMagicActor Tate Donovan is heading to the Pacific Ocean this weekend for a surfathon.
"In the water, he started punching me," said Donovan, who has appeared in more than 40 movies and is known for "Damages" on FX. "I thought, 'This is crazy.' So I gave up the sport right there. I didn't need that stress."
Five years ago, Donovan was with his buddies for a bachelor's surfing party and he got back into the water again.
"I didn't want to wimp out while everyone was having fun," said Donovan, who was the best man in the wedding. "So, once I got back in there and started learning the right techniques, I haven't left."
This weekend, Donovan, along with his buddies John Slattery ("Mad Men)", Jesse Spencer ("House") and a host of other celebrities and pro surfers will take part in the fourth annual Project SOS: Surf 24. That's the celebrity surfathon to support clean water and oceans. The charities that benefit are Santa Monica Baykeeper, Waves for Water, Inside the Outdoors and Tumelo Home.
"Surfing is such an amazing experience. It's a magical time for me. I try to go out as much as I can," said the 48-year-old Donovan, who ran track and played soccer in high school. "I love being in the water now. It might be selfish for me, but I want the oceans to stay in good shape so I can continue to surf. I will benefit if we can preserve these oceans."