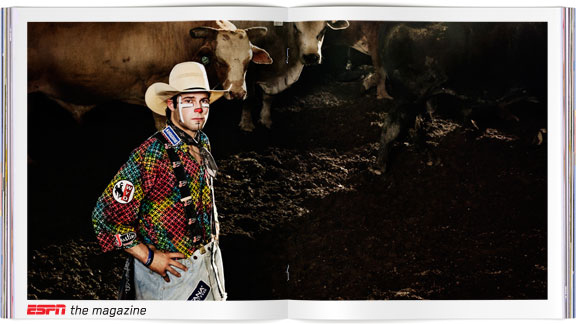 Dustin Snipes for ESPN The MagazineThat's no clown suit -- Dusty wears pads and knee braces to prevent injuries.
This story appears in the Oct. 17 issue of ESPN The Magazine.
Stepping between a bucked bull rider and an 1,800-pound beast requires courage and super-speedy reflexes. Dusty Tuckness has both, which helped him become the Pro Rodeo Cowboy Association's 2010 bullfighter of the year.
---
1. NEVER TRUST A BULL. "Our job is to save the cowboys. The stakes are high; a bull can wipe us out at any moment. So I approach every animal like he's the baddest bull I'll ever face. At the same time, I'm also confident in my own abilities and know that I can outmaneuver them all."
2. IT'S LIKE FOOTBALL BUT WITH A BIGGER, MEANER OPPONENT. "I played high school football and was good enough to play in college. I ended up choosing the rodeo instead, but a lot of the same conditioning and footwork from football still applies, such as the cuts I made as a running back. I still have an opponent to beat, after all -- even if he does weigh about 1,500 pounds more than a linebacker."
3. MAINTAIN YOUR COMPOSURE. "Nothing is more important than being calm. A lot of guys worry about what could happen and start to get hesitant, and then all of a sudden something awful happens. By the time stuff starts going through my mind, I'm usually beneath the bull and it's too late to think."