Karl Yune is a master of robot boxing.
Well, technically Yune's character, Tak Mashido, is the real master of robot boxing in the hit movie "Real Steel," but given the 36-year-old's background in martial arts, it's hard to tell the difference.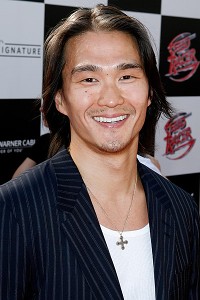 AP Photo/Gus RuelasKarl Yune switched to acting in college after studying Shakespeare.
Mashido, the villain opposite Hugh Jackman's character, Charlie Kenton, is the pioneer of robot boxing, taking it from the underground and transforming it into a mainstream obsession. Yune, for his part, was an undefeated wrestler growing up in Washington, D.C., and has been practicing Shaolin kung fu since he was 7 years old.
"To be honest, I actually drew upon my experience in all these sports and applied it to my acting career," said Yune, a lifelong athlete who started soccer at age 4, wrestling at 8 and football at 10. "It's an extremely competitive business and when it comes down to not quitting and perseverance, those are all qualities and lessons that you learn from sports and training in sports.
"I just remember those football two-a-days and having to drop weight for wrestling, and I'd recall that and go, if I put my mind to it, something great's going to happen."
Things are certainly looking up for Yune, who switched his major to acting after studying Shakespeare in a literature course. "Real Steel" is currently the nation's top-grossing film, having once again won this past weekend's box office.
So how much would Yune, who studied tech minds like Steve Jobs and Bill Gates to prepare for his role, pay for a real-life robot boxing match?
"Probably a couple hundred bucks," Yune said. "Thinking about it, the current champ, which is Zeus, my robot in the film, he doesn't just get in the ring, he leaps from outside into the ring. It's just this thundering spectacle.
"I definitely love mixed martial arts and boxing and all forms of competitive fighting sports, but there's just something crazy and spectacular about robot boxing."