To trace the impact of video games on the music industry, Scott Steinberg insists you start with the Madden franchise.
The 2003 edition of the landmark football game was the first that actually started breaking bands. Artists like Andrew W.K. and Good Charlotte were afforded the platform off which to springboard into mainstream success. Kids sitting in front of their television, playing Madden, heard the 11-song soundtrack on repeat, which gave the tracks far more spins than radio could provide.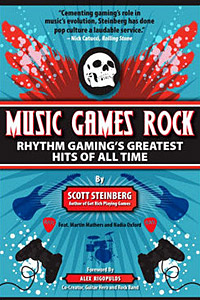 Scott SteinbergIf you go to musicgamesrock.com, you can download the guide to video games.
And it set a revolutionary precedent Electronic Arts continues to this day.
"This laid the cornerstone for real-world musicians to not only have a presence in games but sometimes a high-profile one," Steinberg, author of the book "Music Games Rock: Rhythm Gaming's Greatest Hits of All Time," said. "They'd either have tracks featured in the game or have music exclusive to the game before it was available in shops. It was, for a long time, a top place to discover new music."
Steinberg, whose book charts the rise and fall of series like Guitar Hero and Rock Band, also highlights sports crossovers, like Rap Jam Volume One, the 1995 SNES basketball game in which the players were hip-hop artists like Coolio, LL Cool J and Queen Latifah. Needless to say, there has never been a sequel.
But Madden was the trend-setter. EA Trax, the title of the in-game soundtracks, began with Madden NFL 2003, long before Guitar Hero and Rock Band arrived on the scene. Sports games were already giving bands their starts.
In the case of the aforementioned Harmonix platforms, with their ubiquitous guitar controllers and drum sets, gamers would typically play songs by their favorite artists. Madden, on the other hand, was successful by making the musical experience slightly more passive, according to Steinberg. By placing songs in the background, Madden had them on constant rotation, so the gamer reaches what Steinberg calls a "mental tipping point."
"It's all about discovery," said Steinberg, whose book is available for free download at musicgamesrock.com. "If people can't hear your music it's very hard to become an underground sensation. What happened with the Trax program was not only did EA feature the music, but they also had pop-ups which featured the band names and gave you the opportunity to find out more about the individuals behind the music.
"Once you couple that with the constant rotation, you had a platform that put the bands front and center that made the bands easier to discover and enjoy."
Topics discussed in the book are:
• Most influential music games
• Gaming's most unexpected musical cameos
• The worst music games ever