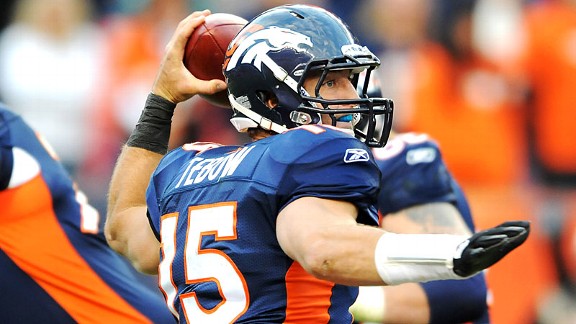 Ron Chenoy/US PresswireTim Tebow is starting Sunday for the Denver Broncos against the Miami Dolphins.
Please forgive me for delving back into what amounts to ancient history but my anger and disgust at conduct demands that we remember the post game handshake/backslap between San Francisco's Jim Harbaugh (The Slapper) and Detroit's Jim Schwartz (The Slappee).
Besides, perhaps you've been working or demonstrating on Wall Street, which means you've got no idea what's going on in the world.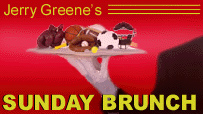 Anyway, we're dealing with my anger and disgust at the behavior during the incident. What? Oh, no, not Harbaugh and Schwartz. They were fine. It's everyone else on the field that cluttered up things up and prevented anything cool from happening.
What we needed was the instant forming of a circle surrounding them as used to happen during recess at elementary school. Everyone chanting "Fight! Fight! Fight!" while Harbaugh and Schwartz slowly circled each other while frantically trying to figure out how to get out of the circle without getting beat up.
In fact, that should be the tradition after every game instead of a stupid handshake. Who knows how popular it might become? Visualize Rex Ryan and Tom Coughlin in the Octagon at midfield after the game.
And spandex. For Rex, lots of spandex.
Prediction: With Denver leading 28-0 and Tim Tebow having scored four times at halftime, Miami coach Tony Sparano will be fired and escorted from the stadium by security. However, he will say that despite that setback, his life had been enriched just by seeing Tebow play. Miami will hire Bob Tebow, Tim's father, as interim coach.
Now a few more bits of tid before we get to the main courses in today's Tebowlicious Sunday Brunch: