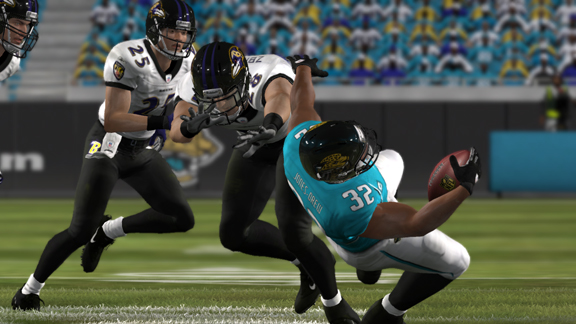 EA Sports
Every NFL game this week has been simulated with the help of EA Sports and "Madden NFL 12" using the game's advanced artificial intelligence, complete with winners, statistical leaders, and even the player of the game.
Check out who "Madden" thinks is going to win Monday night's game, the Baltimore Ravens visiting the Jacksonville Jaguars:
---
The Ravens defense forced three interceptions -- including one that Ed Reed ran back to the house -- as Baltimore simply destroyed Jacksonville, 30-13. Ray Rice ran for 70 yards and one touchdown in the convincing win.
Click here for a box score and game leaders.
To see how the rest of this week's games fared in the simulation, visit The Gamer blog's
Madden NFL 12: Week 7 Simulations.