Welcome back to another edition of Page 2 Jeopardy!, the quiz that tests your knowledge of sports, pop culture and assorted trivia. Please remember to phrase your responses in the form of a question.
(Correct questions at the end of the quiz.)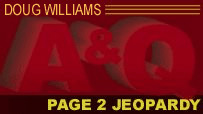 1. Answer: The Virginia Destroyers of the United Football League gave this longtime NFL coach his first pro football championship.
2. Answer: Chicago Bears long snapper Patrick Mannelly -- who's played in 144 consecutive games -- has a father-in-law who was durable, too.
3. Answer: At 56, this American archer -- who shares the same name as former Super Bowl star -- is trying to make a sixth Olympic team.
4. Answer: The former girlfriend of this soccer star says his mom recently chased her and threatened her with a frying pan.
5. Answer: This 28-year-old starting college quarterback -- once a pitcher and top Yankees draft pick -- is older than 14 QBs who started in Week 1 of this NFL season.
Question 1: Who is Marty Schottenheimer?
Question 2: Who is Tommy John?
Question 3: Who is Butch Johnson?
Question 4: Who is Lionel Messi?
Question 5: Who is Brandon Weeden of Oklahoma State?