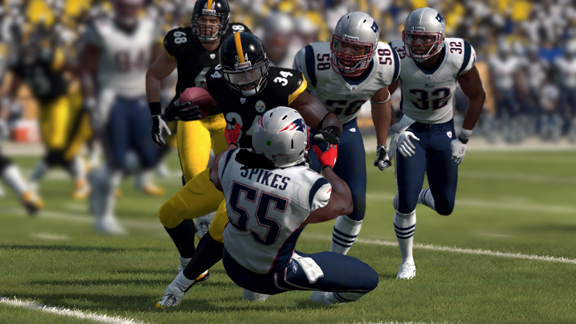 EA Sports
Every NFL game this week has been simulated with the help of EA Sports and "Madden NFL 12" using the game's advanced artificial intelligence, complete with winners, statistical leaders, and even the player of the game.
Check out who "Madden" thinks is going to win before the games are even played, including one of the week's best games, the New England Patriots at the Pittsburgh Steelers:
---
When Tom Brady and the Patriots took a 17-7 lead into the half, the game looked to be firmly in New England's control. But not so fast as Pittsburgh came out on fire in the second half, putting up 20 points and pulling to within just four with plenty of time still left on the clock to complete the comeback. Unfortunately for Steeler fans, it was too little too late, as the Patriots held on for the thrilling 31-27 win.
For a box score, and to tab through the rest of the games,
visit The Gamer blog's Madden NFL 12: Week 8 Simulations »