When you're sports fans stuck in a house with strangers and you can't watch TV or listen to the radio and the only thing you have is the computer, it's obvious where you click: ESPN.com.
"We aren't allowed to see much of the outside world, but we would go to ESPN.com and read what's going on in the sports world and watch some videos," said Ashley Kelsey, one of seven cast members on MTV's "The Real World: San Diego" this fall. "We would leave the sound down so they wouldn't catch us. Eventually, we got caught and we had to stop!"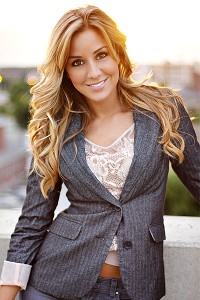 Courtesy of Ashley Kelsey Ashley Kelsey is a graduate of UConn and hopes to become an NFL sideline reporter.
In her bio for the show, Kelsey said she had a dream of being a sideline reporter covering the NFL. Her partner in crime watching ESPN.com was Zach Nichols, who played football at Northern Michigan University and still wants to play pro football.
"Going from having ESPN on my phone to not even being able to watch TV made me go crazy," Nichols said. "I started running on the treadmill just so I could watch ESPN at the gym. I was on the website at least twice a day."
"The Real World: San Diego" is the 26th season of the MTV reality series focusing on diverse strangers living together for several months as cameras document their lives 24/7. Kelsey, 24, and Nichols, 23, are the oldest on the show and have been the most sane ones through the first handful of shows. On Wednesday, the cast members continue to work through their differences.
"I knew what to expect because I had seen the show before, but there were so many things I didn't expect: adjusting to cameras in your face, getting to know complete strangers in a short amount of time and living in a new city," Kelsey said. "But I'm so glad for this opportunity. Only 200 people have ever gotten to do this in their life. It was a great way to spend your summer."
Nichols, who played wide receiver for NMU and has a degree in sports science and exercise physiology, still aspires to play pro football. He continues to train in his hometown of Brighton, Mich.
"Since I left the house I've been training for the upcoming indoor season. I've been working out, too," Nichols said. "I hope to sign in the UIFL [Ultimate Indoor Football League] again and play for my second championship in two years."
Kelsey, who lives in Connecticut and graduated from UConn in the spring with a marketing degree, is still deciding on a career path and hasn't ruled out wanting to be an NFL sideline reporter.
"The show made me realize that I can have more than one career path," Kelsey said. "I've learned not to limit myself. And the show also gave me something I didn't expect, and people will slowly learn what that is."