Welcome back to another edition of Page 2 Jeopardy!, the quiz that tests your knowledge of sports, pop culture and assorted trivia. Please remember to phrase your responses in the form of a question.
(Correct questions at the end of the quiz.)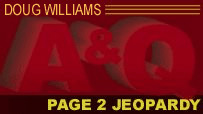 1. Answer: His father is Iranian, his mother is Japanese and he's a wanted man by America's major league baseball teams for his pitching prowess.
2. Answer: This surprisingly good rookie was interviewed five times by this NFL team before it took him in the second round of April's draft.
3. Answer: This longtime critic of Albert Haynesworth, asked whether he'd ever spoken to him, said, "No, because normally I'm at Pro Bowls and Super Bowls."
4. Answer: "It really takes me back to my beginnings in professional ball in 1975 when I started in the ABA," says this 74-year-old former NBA Coach of the Year, who has decided to coach in the NBA's D-League.
5. Answer Illinois Rep. Bobby Rush recently compared this organization to Al Capone and the Mafia, saying, "They're one of the most vicious, most ruthless organizations ever created by mankind."
Question 1: Who is Yu Darvish?
Question 2: Who is Andy Dalton?
Question 3: Who is Warren Sapp?
Question 4: Who is Del Harris?
Question 5: What is the NCAA?