Just as the NFL puts out an injury report on the likelihood that certain players will suit up each week (Probable, Questionable, Doubtful or Out), we rate the NFL schedule on the likelihood that games will be worth watching. Because let's face it, you can't watch them all.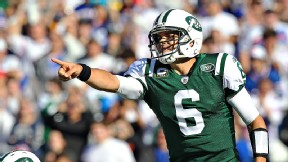 Tom Szczerbowski/Getty ImagesDoes Mark Sanchez have the Jets headed
to another AFC Championship Game?
"PROBABLE" Game of the Week:
New England at New York Jets.
Since losing to the Patriots in Week 5, the Jets have won three straight and are back on track to lose the AFC Championship Game. If the Patriots can win this week, they'll prove that they can beat at least one New York team.
"QUESTIONABLE" Game of the Week: Denver at Kansas City.
Be on the lookout for miracles in this game, especially after the Chiefs turned Dolphins quarterback Matt Moore into the AFC Offensive Player of the Week last week.
"DOUBTFUL" Game of the Week: Minnesota at Green Bay.
Vikings wide receiver Percy Harvin, who is returning from a rib injury, decided not to appeal the $7,500 fine he received for fighting with Captain Munnerlyn. Just to clarify: Munnerlyn is a defensive back for the Panthers -- not the skipper of the Vikings' charter cruise on Lake Minnetonka.
"OUT" Game of the Week: Arizona at Philadelphia.
This is a rematch of the NFC Championship Game from three years ago, which the Cardinals won 32-25. Needless to say, that Cardinals team wouldn't stand a chance against the 2011 Dream Team Eagles. ... Meantime, Michael Vick's family bought a parrot. Given Vick's past, you'd think he'd want to avoid an animal that could talk.