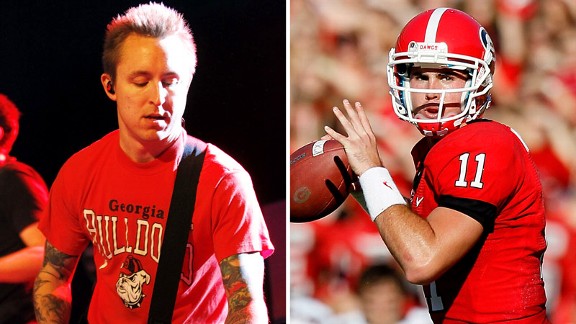 Getty ImagesYellowcard singer Ryan Key is inspired by the turnaround of Aaron Murray and the Bulldogs.
Let me start by saying I was born in the state of Florida into a family that bleeds Georgia Red. That is hostile territory to grow up as a Bulldogs fan. Somehow I managed to come out the other side of childhood as big a fan as ever, despite being tortured by Florida Gators (most of whom are my closest friends) for so many years. The point is, like so many college football fans across this great nation, geography does not always define your allegiances -- family fandom runs deep.
My beloved Georgia Bulldogs (7-2) have had only a handful of must-win situations in the 31 years I have been here. Looking forward to The Deep South's Oldest Rivalry against Auburn this weekend, I am stretched to find a better example of one. What a season this has been.
I play rock music in a band called Yellowcard. The similar paths that my band and my football team are on at this moment in time are pretty incredible. At the end of 2010 the future of my band was very uncertain. We had just finished recording our first album in three years after spending two years trying out the old "indefinite hiatus." The Bulldogs finished the 2010 season 6-7 with a Liberty Bowl loss to the University of Central Florida Knights in a game where we couldn't manage a single touchdown. It was our first losing season in 14 years. The program's future seemed as uncertain as my own, but there is something in both worlds, music and football, about the saying, "there's always next year."