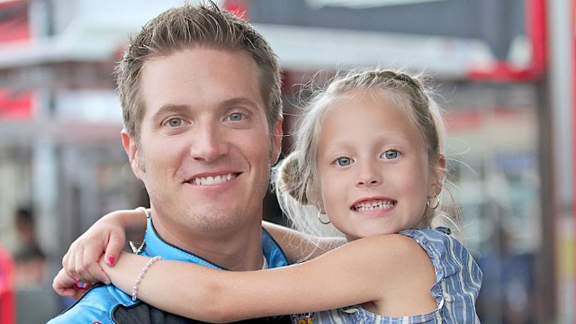 ActivisionJ.J. Yeley's daughter Faith will be playing "NASCAR Unleashed" for charity this weekend.
Around the track, they say "rubbin' is racin,'" but in the video game world of "NASCAR Unleashed," it's more like the "crash and dash" as wrecking your rival is the quickest way to move up in the rankings.
A tactic NASCAR driver and "Unleashed" fan J.J. Yeley loves about the new game.
"The beauty of the video game is there's smoke, there's fire, you're flipping and it all looks cool, but at the end, the computer resets itself and you're still racing," Yeley tells me over the phone as we talk NASCAR and the state of virtual driving. "In real life, it's very scary. The speed we're traveling and the impact we're hitting another car or hitting the wall, and that feeling of not being able to control what's happening ... you're going around a corner at 190 miles per hour and that split second when you blow a tire and the time between you blowing a tire and hitting the fence, as a driver, that takes an eternity because you know what's coming, you know it's going to hurt, but you can't change it.
"In the video game, you're back racing in seconds."
And the last few weeks, Yeley knows all about the crash and recover time of "NASCAR Unleashed" as he's been practicing every day with his six-year-old daughter, Faith, in order to get her ready for the first ever Battle of the NASCAR Kids video game tournament. Here, the children of famous drivers put their dad's in the backseat for once, taking the wheels of "NASCAR Unleashed" and racing for the chance to give $5,000 to their favorite charity.