LOS ANGELES -- Nowhere can you appreciate the sheer head-turning dimensions of pro athletes more than a Hollywood shindig. Like sharply dressed sentinels, heads sticking way above the fray, out-of-work NBA players dwarf their Hollywood counterparts. Their size triggers double-takes from even the most jaded star watchers. And where else would Jon Hamm and Carmelo Anthony talk about the Knicks' chances this year?
The scene was the annual GQ Men of the Year Party at Hollywood's legendary Chateau Marmont hotel, which celebrates the best and brightest from the world of entertainment, sports and fashion. In a second floor courtyard under the stars, bold-face names drank champagne and noshed on grilled cheese squares while posing for personal pictures with one another.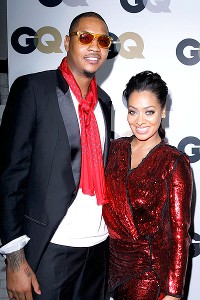 Jeff Vespa/Getty Images NBA player Carmelo Anthony and TV personality La La Vasquez arrive at GQ's 2011 'Men of the Year' party.
"This is an event we look forward to every year," GQ editor-in-chief Jim Nelson said. "It's about celebrating the people who inspire us."
The November event, which generally doesn't draw NBA players, who would normally be in season, saw a half dozen ballplayers rub elbows with Tinseltown's big names.
The party also gave the guys the chance to walk the red carpet sporting their best threads. NBA players have a rep as the best dressed pro athletes around. They didn't disappoint. Memphis Grizzlies forward Rudy Gay looked right out of the pages of GQ with a tailored suit he got specifically for the event. Oklahoma City Thunder point guard Russell Westbrook donned an equally impressive slim-fitting gray suit with black-framed glasses that matched Sixers forward Andre Iguodala's. The always stylish Matt Barnes, the only Laker in attendance, was a late arrival but looked sharp in his cream-colored number.
Anthony was the rare miss as his bright red scarf clashed badly with his rather odd gold shoes. Didn't stop Anna Faris from smiling ear-to-ear as Melo and wife LaLa chatted with her. Skateboarding legend Shaun White cleaned himself up a bit with his hair pulled back as he did a few laps and mingled with the likes of Sarah Silverman.
The only thing celebs love more than gabbing with other celebrities is meeting athletes. Turns them instantly into school children.
"Every kid dreams about being a professional athlete," said Justin Timberlake, who once hosted the ESPYs. "We live through these guys. Everybody loves athletes."
"Mad Men" star Hamm took pictures with Anthony and "Kick-Ass" star Clark Duke tried to get as much face time with Gay as he could.
Timberlake interrupted his conversation with Jay-Z to game plan with Gay when the Grizzlies forward walked by. "Man, I'm telling you we could run that two-man game," Timberlake said. "You setting picks, me shooting jumpers. We'd be killing them all day."
"For sure," said a bemused Gay as he walked away.