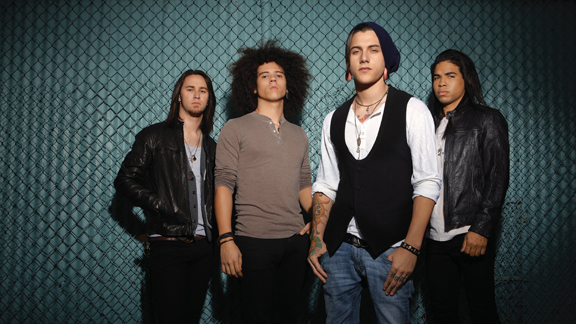 InterscopeHeavy metal band Black Tide is using the power of video games to help spread their music.
PlayStation is the new radio.
Don't believe me, just look at Interscope's Black Tide, a head-snapping speed metal band building a following of gamers through hits in popular franchises from "Rock Band" and "MotorStorm" to "Skate" and "Guitar Hero."
Most recently, the Miami-based band contributed their smash single, "That Fire" to EA Sports' "NHL 12," working in millions of spins as hockey fans smack each other into the glass and duke it out, goalie versus goalie on the virtual ice.
"The gamer community is pretty much as big as it can possibly be," explains Black Tide's bassist, Zakk Sandler. "Gamers include everyone from eight-year-old kids who want to go play as their favorite bands or their favorite sports teams, to guys in their thirties who have been playing since they were little kids. It's just such a huge community, and we're also a part of, so we're stoked to be able to have our music be a part of it as well."