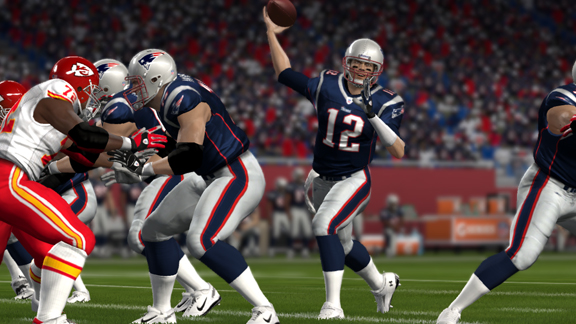 EA Sports
Every NFL game this week has been simulated with the help of EA Sports and "Madden NFL 12" using the game's advanced artificial intelligence, complete with winners, statistical leaders, and even the player of the game.
Check out who "Madden" thinks is going to win Monday night's game, the Kansas City Chiefs at the New England Patriots:
---
The Tom-Brady-to-Rob-Gronkowski connection continues to pay huge dividends inside the red zone for New England as Brady hits his tight end for two first-half touchdown passes in the Pats 35-10 dismantling of the Chiefs. Brady finished the game with four touchdowns, while Gronkowski added nine catches for 120 yards as the Kansas City D was out there playing checkers while the Pats were playing chess.
Click here for a box score and game leaders.
To see how the rest of this week's games fared in the simulation, visit The Gamer blog's
Madden NFL 12: Week 11 Simulations.