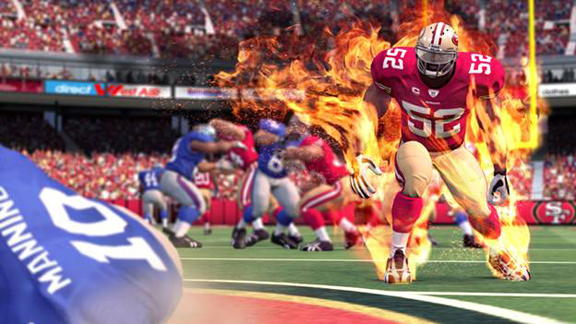 EA SportsPatrick Willis bursts into flames to make another big play in "NFL Blitz."
I was playing an early copy of the new "NFL Blitz" the other day, and Calvin Johnson went airborne for what looked like the game-winning touchdown. But then he ran into Patrick Willis. And when I say "ran into," I really mean Megatron flew facemask-first into P52's stone-like fist as the on-fire Willis literally punched the gravity-defying receiver backward before he reached the end zone. 49ers win.
That's what "NFL Blitz" is all about. It's that maddening intensity that only 7-on-7 football can bring. Throw in players igniting into flames and hurtling their virtual bodies throughout the field thanks to the kind of hops that would make even LeBron jealous, and you have a recipe for twitchy arcade action gamers have been addicted to since the title first debuted to tokens back in 1997.
While football fans have to wait until January for the game's digital release ($15; XBLA, PSN), EA Sports and Spike TV are launching a special "NFL Blitz" cover vote at VGA.Spike.com, where gamers can choose among Willis, Roddy White and Ray Rice to appear as the game's cover star and spokesperson. All voting will take place during the Spike Video Game Awards on Dec. 10, with the winning player being announced in style by football legends Joe Montana and Jerry Rice that night.
To All-Pro linebacker Willis, however, there's no denying he's the best choice for the game's cover.
"People should vote for me for the cover of 'NFL Blitz' because I'm the type of guy who likes to go after the ball carrier and just like in the game, I hit him pretty hard," Willis says. "I still remember when my dad bought us the old N64 copy of 'Blitz.' My dad was pretty good at that game, but we would all play together. I'd play, my brother would play, even my sister liked to play 'Blitz,' but my dad was tough to beat. He was always throwing the ball deep.