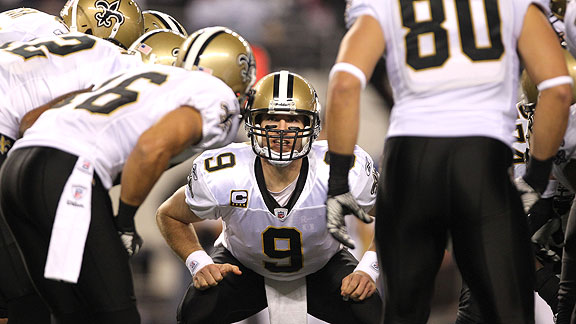 Matthew Emmons/US PresswireDrew Brees and the Saints must be rejoicing that they won't be facing Detroit's Ndamukong Suh.
Just as the NFL puts out an injury report on the likelihood that certain players will suit up each week (probable, questionable, doubtful or out), we rate the NFL schedule on the likelihood that games will be worth watching. Because let's face it, you can't watch them all.
"PROBABLE" Game of the Week: Detroit at New Orleans
Lions defensive tackle Ndamukong Suh is suspended for this game, lowering the chances that Drew Brees will be decapitated or a Saints offensive lineman will be treated like a Jump to Conclusions mat.
"QUESTIONABLE" Game of the Week: Atlanta at Houston.
One of these teams enters the game with a Super Bowl quarterback; the other, with Matt Ryan. Jake Delhomme will probably not see the field this week, though, as the Texans want to keep newly returned wide receiver Andre Johnson from exerting too much energy breaking up interceptions.
"DOUBTFUL" Game of the Week: Green Bay at New York Giants
Do the Giants have it in them to end another team's run at perfection, as they did by beating the Patriots in Super Bowl XLII? If the G-Men respond to this week's criticism by Tiki Barber as well as they did to his 2007 criticism, the answer is yes.
"OUT" Game of the Week: Indianapolis at New England
Sadists will be watching this game to see if Colts quarterback Dan Orlovsky runs out of the back of the end zone again, as he did with the Lions in 2008. But the curious will be watching to see if Orlovsky can ever lead an offense into the end zone again. ... If Tom Brady has a heart this holiday season, he'll throw an interception for this kid in Philadelphia.