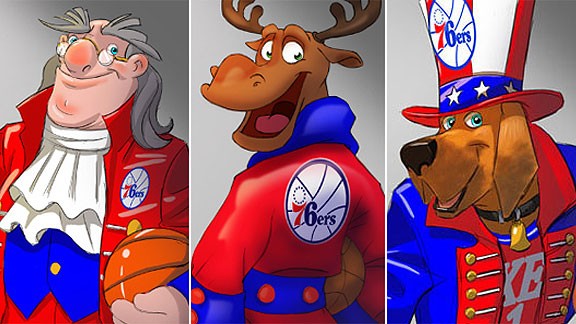 Philadelphia 76ersSixers fans can choose either Big Ben, Phil E. Moose or B. Franklin Dogg as their new mascot.
The Philadelphia 76ers unveiled the three final candidates for the team's new mascot Monday, a move that resulted in some "SMH" or virtual headshaking -- or at least head scratching -- from Philly fans on social media.
Turns out a lot of Sixers supporters aren't huge fans of Big Ben (the founding father, not the Steelers' quarterback), B. Franklin Dogg or Phil E. Moose to replace slam-dunking rabbit Hip Hop.
Sixers CEO Adam Aron tweeted about Hip Hop's departure last month.
One fan even called for a total boycott in the hoops hare's honor. However, the general consensus seems to be simply that this trio will not do. The Philadelphia Daily News summed up fan sentiment in a front-page headline: "Fans Agree: Sixers' Mascot Proposals are Lame." A poll by the local ABC affiliate found more than half of voters opting for "None of the above."
Phil E. Moose has come under fire on Twitter for the fact that's there absolutely no connection between the City of Brotherly Love and the antlered animal. There's already a prominent in-state Big Ben. And B. Franklin Dogg is too reminiscent of crime fighting dog McGruff.
Yes, these are things people are debating in the Twitterverse.