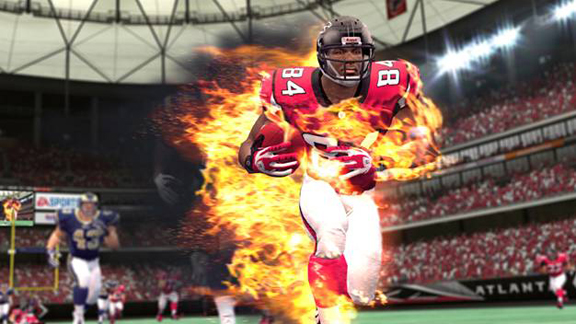 EA SportsRoddy White and the Falcons look to be one of the top teams in "NFL Blitz."
When Roddy White gets rowdy in "NFL Blitz," all he can do is grin. And why not, his Falcons are one of the most potent 7-on-7 teams in the game.
Think about it, with five skill players on every offense, is there a better group than White, Julio Jones, Michael Turner, Tony Gonzalez, and Matt Ryan?
"You can't cover everyone," White says with a laugh. "You leave any one of us open and we'll make you pay."
White grew up playing "NFL Blitz," so he's well versed on beating defenses in the game, even breaking down his favorite plays from back in the day. "You need speed and guys who can jump for the ball," he says. "The wide outs dominate this game with the jump catch, and with the receivers we have, the Falcons should be rated 99."
And since the EA Sports' "Blitz" remake utilizes the exact same playbook from the old arcade classic, only with updated rosters, White is right, the Falcons offense looks virtually unstoppable.
Top things off with the fact that White is one of three players vying to appear on the game's cover (voting to take place live during the Spike TV Video Game Awards), and you can see why "Rowdy" Roddy is so hyped to talk video games.
Jon Robinson: I hear you're a big gamer. What have you been playing lately?
Roddy White: I actually play a lot of "Madden." I don't consider myself one of the best, because I've been to some of the EA Sports parties and I did not play well in any of these tournaments.
Back in the day, though, I used to love going to the arcade to play "Blitz". We couldn't afford to buy the game back then, but I'd play it in the arcade whenever I could. People catching on fire, the 7-on-7, and all the big hits just really made the game exciting. When you're running with the ball and you're spinning and jumping over guys and you knew you couldn't be stopped, that just made the game so fun.