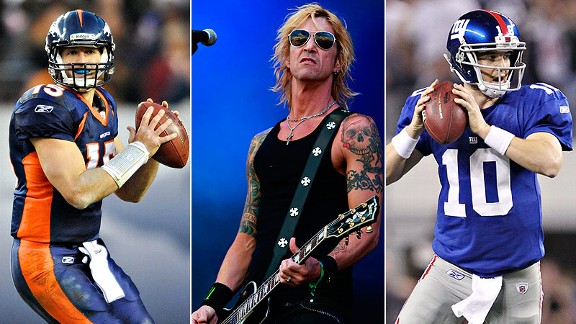 US Presswire, Getty Images
Have you ever been in a stressful group situation? A team deadline at work? Witnessed a school-yard fight?
We have all probably, at one time in our lives, been privy to seeing that one guy who seems to take those stressful situations in stride. He is the guy who performs well at work when everyone else is freaking out. He is the one guy in the "group" who remains calm and sees the right way through. He is the guy who wins the school-yard fight.
The myth of "the big guy upstairs" being on Denver Broncos quarterback Tim Tebow's side will undoubtedly grow even larger than it is now. It seems to be the biggest topic on sports talk radio these past couple of weeks.
And what about New York Giants quarterback Eli Manning? His sense of calm during all of his fourth-quarter, come-from-behind wins this season should not be overlooked. Watching the Giants' and Broncos' wins last weekend made for one of the best NFL Sundays in recent memory.
Sunday may have also proved that the Chicago Bears and Dallas Cowboys are in real tailspins. It is all well and fine to be playing a game against supposed "QBs of destiny," but when you are in the NFL and are up 10 to 12 points in the second half of the fourth quarter -- your team should just flat-out win. No?
But if your team is already on shaky ground, an opposing quarterback with some poise and calm and back-story (such is the case with Tebow this season) can and will shake you even when you are up in the fourth.