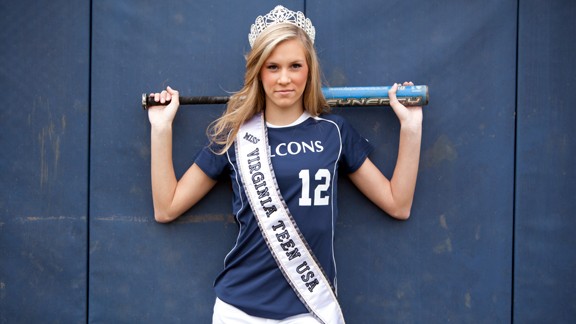 Brad Lovell PhotographyElizabeth Coakley, the starting second baseman for Abingdon (Va.), was named Miss Virginia Teen USA last month. "What makes her successful is that she truly knows how to bring her game face," says her father, Bruce.
Question: What sets you apart from the other contestants?
Elizabeth Coakley stared. She was allowed 20 seconds for an answer, but only a moment to decide how to answer. No pressure, either. It was only the Miss Virginia Teen USA pageant.
Should she talk about the time in 9th grade, when friends encouraged her to compete in the Junior Miss Abingdon High School pageant and she finished second runner-up?
"Third place sounds really good if people don't know that there were only three people in the competition," Coakley says.
OK. Don't mention that.
Instead, maybe she should talk about her role as the starting second baseman on the Abingdon (Va.) softball team, which she helped lead to the state quarterfinals just last season as a sophomore.
Miss USA's system is Donald Trump's creation, and separates itself from the Miss America pageants by not requiring contestants to display a talent. But the judges don't know about Coakley's ability to turn a 6-4-3 double play. Shouldn't that separate her from the other contestants?
"She's so fun to coach at practice, and that translates to her success on the field," Abingdon softball coach Jason Delp says. "She's very good defensively and on the bases, she's a quick learner, and she's respected by her teammates."