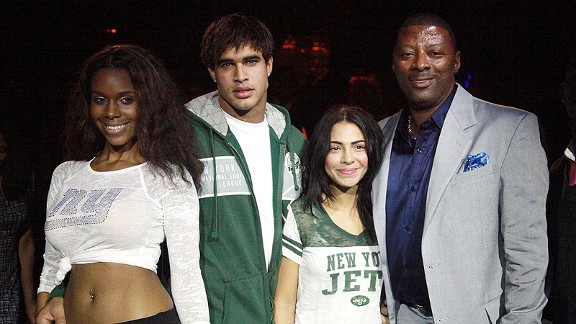 Astrid Stawiarz/Getty ImagesCarl Banks, showing off his new line this fall, has ventured in the women's jewelry line.
Carl Banks knows how to take a man down on the gridiron.
He' an NFL legend, and we'd expect no less.
But he also knows a thing or two about women's clothing. And accessories.
Banks, 49, launched a women's apparel line earlier this year geared for female football fans. It did so well that this week, he's introducing a new jewelry line, Carla Marie by Chelsea Taylor, and like its clothing counterpart, it's for the woman who knows her X's from her O's.
The new jewelry line accents his clothing line quite well. It's football-inspired jewelry -- all NFL teams are well-represented -- that he hawks on HSN.com.
"I was extremely nervous when we launched it on Labor Day on Home Shopping Network," Banks, a former New York Giant, said of his clothing line. "I had five NFL wives come on HSN to help me launch and talk about the product. I was nervous, but I knew the right elements were there. I wanted to make sure I had it right. We did a lot of research and I knew the line was great and I felt great about it, but still, launching something for women, when you know, women know what they want! When the show was over, I felt like that Mel Gibson character. I know what women want."
Banks says he's uniquely qualified for such a career turn, given his love for the game. But he also has a cheat sheet. He's linked up with G-III apparel company, which is also home to Jessica Simpson, Calvin Klein and Kenneth Cole -- top brands for women -- so he has access to some pretty good brains in fashion when it comes to putting together his pieces.
"I can say, 'Hey, look, I need a little help here. I need some really great fabrics, I need some suggestions on really great silhouettes …'" he said. "Before we even infused the team element into the garment, we got the fashion right. And I didn't want it to be boxy, I didn't want it to look like an oversized kids garment or an undersized men's garment."
The response has been major. They're actually sold out of everything online. There are still some products in stores like Lord & Taylor and Macy's, and Banks is hoping that this new jewelry line, which features sterling silver earrings and crystal dome-shaped rings, has similar success.
"I want to build a ladies' collection that's going to stand the test and be around from year to year to year," he said. "I want to be the No. 1 licensed sports ladies brand."