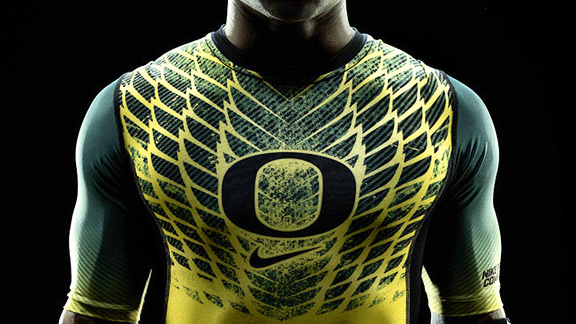 Courtesy of NikeDoes this base layer remind you of the movie "Black Swan"? Oregon will wear it at the Rose Bowl.
Last December, a rather grandiose movie was released. People either loved it or hated it, but everyone had a strong opinion about it. It was called "Black Swan."
This December, a rather grandiose college football uniform has been released. People seem destined to either love it or hate it, but everyone will likely have a strong opinion on it. It looks like a black swan.
Welcome to Oregon's new uniform for the Rose Bowl. The biggest change is the helmet, which now has wings on the side and an "O" on the back, but there are lots of additional design details: a new uni number font (an improvement, plus the numerals supposedly color-shift depending on how the light is hitting them), broader wings on the shoulders (too bad -- the old ones looked better), a two-tone face mask (ugh), TV numbers added to the sleeves (that should make the TV spotters happy) and so on. But despite all the hype about the high-tech materials and the assorted innovative gewgaws, the overall effect is unmistakable: black swan.
So what say ye, college football fans -- prima ballerina or ugly duckling? Let us know what you think of this new design.
(Incidentally, there's another team playing in the Rose Bowl -- Wisconsin. Here's a hint of what its uniform will look like, with the full unveiling later this week.)