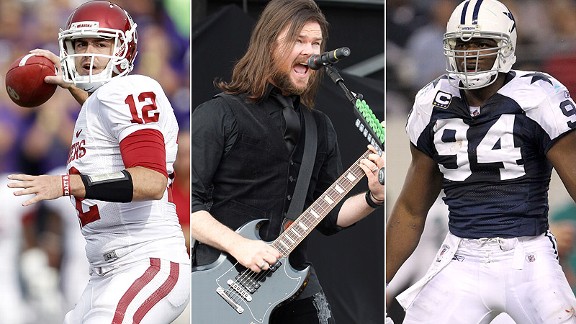 Getty Images/US PresswireHinder's Mark King, center, says football songs need high energy.
With just seconds left in regulation, Dallas Cowboys coach Jason Garrett called a timeout that nullified what would have been a game-winning 49-yard field goal, eventually leading to a 19-13 Arizona overtime win in Week 13.
"Being a Cowboys fan, I'm used to stupid s--- like that," says Mark King with a laugh.
Still, despite this season's shortcomings, King loves the Cowboys. And football. So much that the Hinder guitarist and his band got into the game with a pair of sports anthems. "Sooners Don't Back Down," a fight song for the group's beloved University of Oklahoma team, was released in September. In November, Banshee Music released "Official Gameday Music of the NFL," a five-song EP featuring tracks from Hinder, Darius Rucker, Sammy Hagar and Joe Satriani, James Durbin, and Jordin Sparks.
The Life caught up with King by phone from Houston, where Hinder was wrapping up its final tour dates before the holidays, to talk about game-day anthems.
The Life: What's the starting point for writing a song specific to football?
King: First of all, we're all big football fans, so sometimes you just sit down and you have a rockin' riff. You start thinking, this could be cool in a sports venue. You think of big rock songs, like Guns N' Roses is played in every arena, every single game. So you get a good riff like that. It kind of starts there.