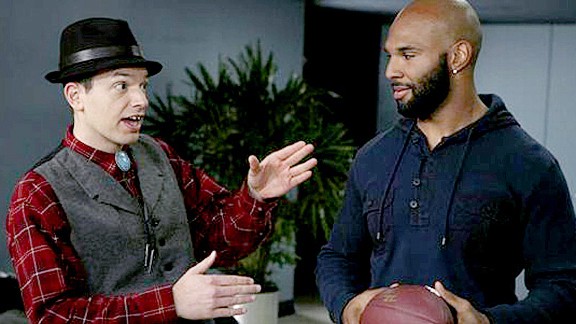 Courtesy of FXPaul Scheer and Matt Forte talk on an episode of the FX comedy "The League."
Fantasy fans must have thought a Christmas miracle had occurred upon hearing that an injured Matt Forte was going to be playing on their flatscreens over the holidays.
But unfortunately, he was guest-starring in the season finale of "The League" on FX instead of leading his Bears against the Packers.
While the sample size isn't as large as the Madden Curse (which dates back to 2000), a maddening trend is starting to take hold on NFL players after guest-starring on "The League."
Page 2 reviews evidence of a fantasy curse seen over the course of show's hilarious (and now tumultuous?) three-year run:
Season 1: Chargers TE Antonio Gates (Episode: "Mr. McGibblets," Nov. 19, 2009)
The Sunday after appearing on "The League" Gates has a season-low three catches for 41 yards against the Denver Broncos. Later, Gates aggravated a toe injury that would plague him over the subsequent two seasons.
Season 2: Bengals WR Chad Ochocinco ("Vegas Draft," Sept. 16, 2010)
A week after burning the Patriots for 12 catches, 159 yards and a touchdown in the season opener, Ochocinco would have to settle for four catches and 44 yards versus the Ravens after appearing on "The League." A year later, after moving to New England, it would take No. 85 until Week 15 to register his first touchdown of 2011.
Season 2: Browns WR Josh Cribbs ("The White Knuckler," Sept. 30, 2010)
Two weeks after appearing on "The League," Cribbs was knocked out of a game, receiving a concussion from James Harrison.
Season 3: Falcons CB Brent Grimes ("The Lockout," Oct. 6, 2011)
Despite being up by two touchdowns over the defending Super Bowl Champion Packers, Grimes and the Falcons secondary are burned by two late touchdowns by James Jones and Greg Jennings. Grimes would later be out of action for more than a month due to an injury sustained in an Oct. 23 game.
Season 3: Seahawks WR Sidney Rice ("The Lockout," Oct. 6, 2011)
After missing the first two games of the season, Rice coughed up a fumble in a lowly four-catch, 38-yard performance against the Giants. Rice would be put on the IR in November for the remainder of the year after suffering his second concussion of the season.
Season 3: Matt Forte ("The Funeral," Dec. 22, 2011)
Weeks before his appearance on the FX finale, Forte tore his MCL, sending him to the Bears' bench for the remainder of his much-talked-about contract year. Who knows, if the Chicago brass doesn't pay up in the offseason, maybe Matt can fall back on acting.
Earlier this month it was announced that Season 4 of "The League" has been picked up by FX. Given the findings above, we strongly suggest that you research players' cameos as part of your 2012 fantasy draft research.