Word leaked that Charlotte Bobcats owner Michael Jordan is engaged to girlfriend Yvette Prieto, a little more than five years after the end of his first marriage. Just as with his initial return to basketball, the hairless Hanes-monger's return to marriage comes following a brief period of playing the field, though this time he's got a Cuban bombshell rather than a .202 batting average to show for it. Because celebrity weddings apparently matter to people, Page 2 has all of the MJ wedding predictions you need to fill that Kardashian-shaped hole in your heart.
• Nike will release commemorative His & Her Air Jordans for the event that are the same as recent releases, but with little bowties and veils on the tongues.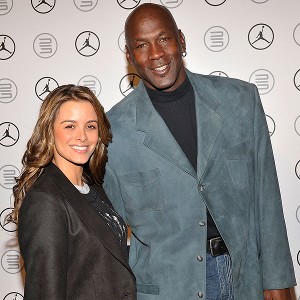 Charley Gallay/Getty ImagesMichael Jordan poses at a February event with his new fiancee, Yvette Prieto.
• Scottie Pippen will decline to be Jordan's best man, saying things are a little too tight for him right now. MJ will offer to foot the bill but will then blow the money in a 12-second visit to Atlantic City.
• Dennis Rodman will decline to be his best man, as he will have already promised to be one of Yvette's bridesmaids.
• Horace Grant will agree to be his best man, but only if he can wear his goggles.
• The wedding party will walk down the aisle to the iconic Bulls intro music: "ANNNNDDD NOW, THE STARTING LINEUP FOR YOUR BRIDE AND GROOOOOM!" The bride will walk to "I Believe I Can Fly."
• The bride will wear a stunning Vera Wang backless gown, while Jordan will wear whatever he can find in Aretha Franklin's closet.
• Instead of the giving away of the bride, the bride's father and several of Jordan's former teammates will perform a keeping away of the bride, where they just chest-pass her back and forth, playing keepaway from the anguished groom.
• When the minister says "or forever hold your peace," several guests will tenderly embrace the player formerly known as Ron Artest.
• When Jordan kisses his bride, as with all the other memorable moments in his life, his tongue will be out.
• After the wedding, Yvette will get an unexpected glimpse of what it's like being Mrs. Airness when she is dunked over the threshold. Then MJ will turn, wink at the camera, and say, "I'm back."
Congrats, Mike. We wish you and your lady the happiness and satisfaction of a thousand buzzer-beaters.