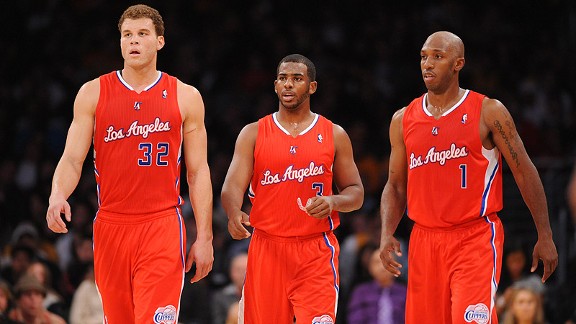 Noah Graham/NBAE/Getty Images Blake Griffin, Chris Paul and Chauncey Billups would look more imposing with a better logo.
So the fellas and I are sitting around watching the new Los Angeles Clippers. Hyped about the three C (Chris, Chauncey and Caron) thing going on in LA. Someone yelled out "The Clippers are going to finally win a chip!"
My response: The Clippers won't win an NBA title until they change those ugly uniforms and get a new logo.
Everyone laughed. But they knew the truth behind the statement. The Clippers' unis are so hideous it is difficult to watch their games in HD and the team logo is so plain, boring, simplistic and unthought-provoking that it makes the Cleveland Browns logo look like it was designed by Tom Ford.
So, in order to help the Clippers, I contacted graphic artist Brad Samuels to come up with something -- anything! -- to make the new look Clippers look new.

New colors. New design. New meaning. New Clippers. New results.
So Mr. Sterling and Mr. Olshey (owner and GM), please take this seriously. Make a change. Since the organization has a new life, you need to have the team's appearance match the new reality. You won't win a championship until you do.