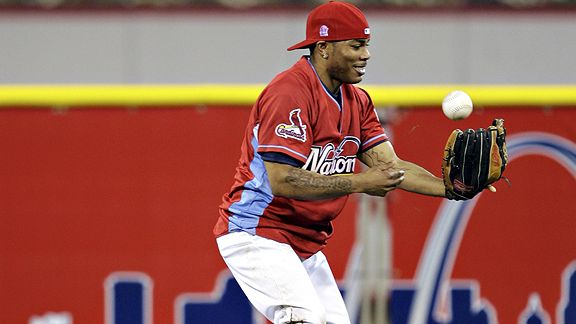 Jamie Squire/Getty Images"My love for sports is as deep or deeper than my love for music," Nelly says.
As you tune in to ESPN during Bowl Week, you'll inevitably see gazillion-times platinum rapper Nelly and his video for "The Champ" that the network is running as a sort of theme music for college football's postseason.
The video is dim, isolated and commendably contemplative, when you compare it with, say, the Busta Rhymes and Justin Bieber spots we (ahem) consumed during the NBA's opening night on Christmas. We got the former athlete, rap vet and St. Louis native on the phone recently to talk about the creative process behind the song and video, the BCS … and, of course, we had to ask him about Albert Pujols' exodus. Check it …
The Life: How did the partnership come about?
Nelly: Well, I kind of worked with them on some previous stuff before and I was down in the studio just working and came up with the idea. It was crazy because, at the time, I was watching the Cardinals in the World Series and I thought it would be a dope song for us and then I just started exploring the possibility of some other things. So when I talked to ESPN they said they were looking for something for their bowl series.
The Life: That's interesting. So, the inspiration for the song was more for the Cards?
Nelly: Well, it was just more so the idea of just winning. I think we were also watching a fight … it was, uh, the Bernard Hopkins fight. There were a lot of things going on and we were watching ESPN and everything in the studio and it just turned into theme music.