So, in the long run -- and to be honest about it -- I was glad that my Washington Huskies football team made a bowl game. If you are an old-schooler like myself, well, then you will remember the time in the not-too-distant past, that an unranked 7-5-ish team would in no way make a bowl appearance. That would have been crazy a few years ago.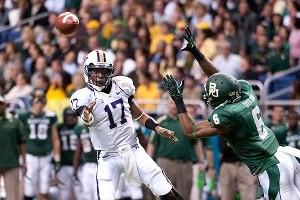 Brendan Maloney/US PresswireEven Andrew Luck would admire Washington QB Keith Price's seven-touchdown effort in the Alamo Bowl.
But geez. We all are aware of the money that even the smallest collegiate football postseason appearance will bring in. Hence, we have what we have now. Bad teams, and sometimes even awful teams (with sub-.500 records, to boot?!), are playing games well after the time that those student-athletes' regular season ended.
It's almost like nowadays the modern Little League tenet of "everybody gets a trophy," has somehow spilled upwards to the collegiate field. Well, at least where collegiate football is concerned. Whose parents' turn is it to bring snacks after the Beef 'O' Brady's Bowl?
The pairings of some of these matchups are awful too. As in a "who-the-hell-cares-that-UCLA-is-playing-whoever-the-hell-they-played" kind of way. Two teams that were so bad that their coaches got fired, and the bowl game featured two interim coaches. Eesh!
But the pairing of Baylor vs. Washington did have an interesting sort of sub-story. Great offenses. Horrible … no … abysmal defenses over the season. Baylor, of course, deserved to be in a bowl game at 9-3. Against the Huskies, though? I dunno. I betcha Baylor fans felt a bit "passed over."