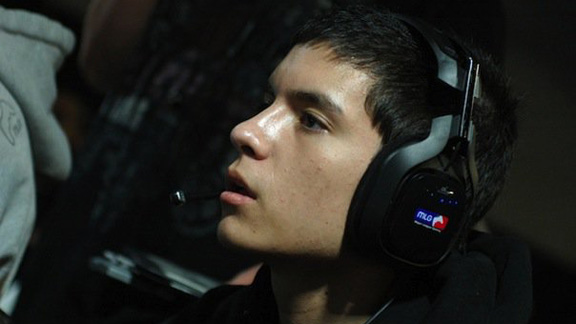 Better have your A-Game ready if you want to challenge Neighbor in "Halo."
Think professional video game players put in 9 to 5 hours like everyone else?
Surprisingly, they do. The only difference is, with Major League Gaming stars like Mike "Hastr0" Rufail and Mason "Neighbor" Cobb, the 9 to 5 they're used to is more like 9 pm to 5 am.
And these late nights can equal big bucks as the two gamers earn six figures a year blasting opponents in "Call of Duty" and "Halo" tournaments while traveling the world with the rest of the MLG elite.
But what is life really like for a pro gaming superstar? I sat down with Rufail and Cobb (representing the Gamma Gamers crew) to find out.
Jon Robinson: What's the one thing people don't realize about your job when they find out you play video games for a living?
Mike Rufail: Training is a lot harder than people think. Usually, about a week or two before a tournament, everyone hunkers down and is up all night. You play online with your teammates, and you'll scrimmage against other pro teams to prepare. We also have a more formal way of training called LANning. A LAN is a local area network, so to LAN, you're playing against other professional gamers who are right there next to you so you can practice what it will be like in a live-event setting. That's probably the biggest thing people don't realize, just how much time we put in. The first thing everyone wants to know when I meet them, though, is how much money I make. [laughs] They're way more interested in that than my training schedule.
Mason Cobb: My schedule has changed throughout the years. One schedule I had was waking up at 5 pm and playing until 12 pm the next day. The professional gamer's schedule is playing into the early morning, but that's getting more and more difficult for me. That's when people play, though, so you just have to deal with it.
I've been a professional video game player for six years now, and the first two years, all of my high school friends really looked down on me, especially the girls. They all thought it was the nerdiest thing they ever heard. But then once they found out I'm traveling around the world and meeting celebrities and making good money, they started coming back around. The professional gamers aren't a bunch of overweight kids living in their mom's basement. We like to live healthy lifestyles, and that's the message we like to portray.