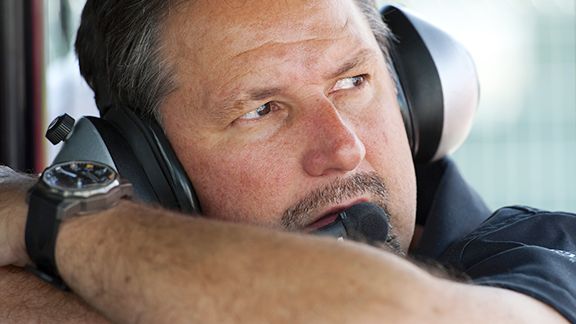 Robert Laberge/Getty ImagesIndy Car legend Michael Andretti is one of 18 competitors for Season 12 of "Celebrity Apprentice."
Michael Andretti is getting no respect.
Google "Celebrity Apprentice" Season 5 cast and you'll see that many websites on Wednesday are announcing that his son, Marco Andretti, will be on the show, which begins Feb. 12 on NBC.
"When you watch the first episode, you'll see me show up late," said Michael Andretti, who has won the third-most Indy car races (42) in history and was in New York for the official announcement. "My son was to do the show, but with the death of his close friend Dan Wheldon in the Las Vegas race and Marco's grandfather, Vito Spinozzi Sr., dying in October, I went in his place."
Andretti joins the largest cast in history (18) for the Donald Trump-led show, which will begin its 12th season as an elimination-style competition. Andretti, the only athlete on the show, joins singers Debbie Gibson, Clay Aiken and Dee Snider as well as science fiction icons George Takei of "Star Trek" and Lou Ferrigno of "The Incredible Hulk."
"It's quite an intense show. I had no idea what I was doing when I first got there. I was really just trying to not get in people's way," Andretti said. "I made a lot of friends on the show and it was a lot of hard work."
That's nothing new for Andretti, son of racing legend Mario Andretti. Currently, Andretti is the chairman, president and CEO of Andretti Autosport and runs two full-time driver programs in the IndyCar series, where he has been equally successful as an owner -- he is the winningest team owner in IndyCar history. And he is doing the show to bring the sport of IndyCar to mainstream audiences.
"Now, I just need to see how they edit the show. They can make you look good or make you look bad! I wonder how I'll come out," Andretti said. "And I've known Donald Trump for more than 10 years. He's a down-to-earth guy. Oh, until he gets to the board room. You've got to respect that."