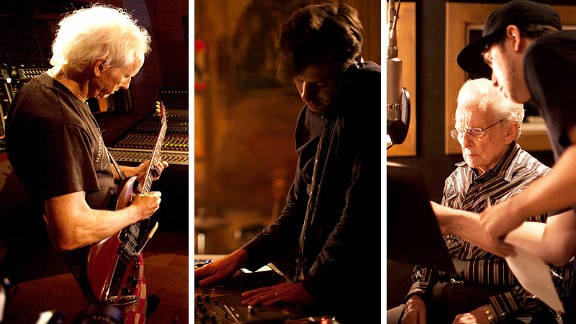 Courtesy Brian NevinsElectronic music artists meld their styles with an array of genres in the Re:Generation Music Project.
ESPN is using five songs from the Re:Generation Music Project's ambitious music collaborations in its BCS Championship Game coverage and all of the songs are available to hear below in a free stream.
Amir Bar-Lev ("My Kid Could Paint That," "The Tillman Story") is directing a documentary film for the Re:Generation Music Project and the video for Mark Ronson's take on jazz, "A La Modeliste," will premiere during ESPN's broadcast of the LSU vs. Alabama BCS Championship Game on Monday at the Superdome in New Orleans. The song features the guitarist-DJ-producer teaming up with Erykah Badu, Mos Def, Trombone Shorty, members of the Dap Kings and Zigaboo Modeliste recorded at Piety Street Studios and Preservation Hall in New Orleans.
Re:Generation Music Project, which was launched last fall and produced by GreenLight Media & Marketing, LLC in association with the Grammys, has enlisted five of the most influential electronic producer/DJs in music to work with other notable and legendary artists and create and "examine and reimagine the history of different musical genres."
• Click here for the full story and to listen to the free stream