Apropos of nothing, Page 2 presents a list of spoof band names pegged to the names of current NFL head coaches:
• Norv Turner Overdrive
• Smashing Coughlins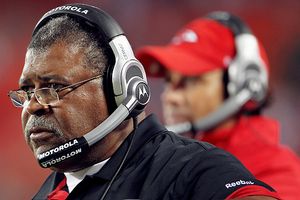 Jamie Squire/Getty ImagesJust as Romeo Crennel eclipsed Todd Haley with the Chiefs, The Romeo Crennel Experience trumps Todd the Wet Sprocket.
• Lovie and the Blowfish
• Bill Belichick and the Heartbreakers
• Earth, Wind and Munchak
• Mike McCarthy and the Mechanics
• Caldwell, Stills, Schwartz and Reid
• Lynyrd Kubiak
• Todd the Wet Sprocket Van Haley
The Romeo Crennel Experience
• The Mamas and the Harbaughs
• Roger Goodell and the Union Gap (bonus commissioner entry!)
• Led Shanahan
• Rex Pistols
Have your own spoof band names inspired by the NFL coaching fraternity? Post them to the comments section.