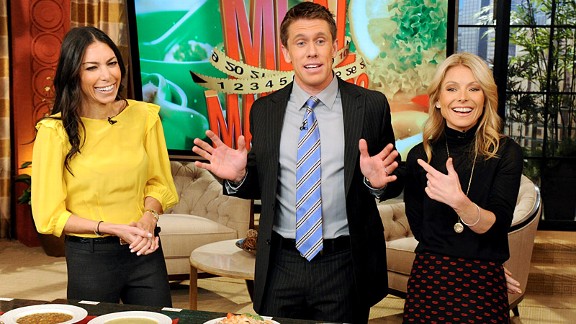 David Russell/Disney-ABC Domestic TV Kelly Ripa and Carl Edwards get advice for making lunch choices from dietitian Tanya Zuckerbrot.
NASCAR driver Carl Edwards was the second of five athletes to cohost "Live! With Kelly" this week with Kelly Ripa on the nationally syndicated talk show.
"It was an honor today. She was a lot of fun, and the audience was incredible. Kate Beckinsale, Laura Prepon and Tanya Zuckerbrot were great guests," Edwards said. "I'm looking forward to having 'Live' fans watch the Daytona 500 on Fox and also attending the race!"
The lineup for the rest of the week: NFL broadcaster Boomer Esiason (Wednesday), ESPN analyst Jesse Palmer (Thursday) and Olympic skating champion Apolo Anton Ohno (Friday). Miami Dolphins running back Reggie Bush cohosted on Monday.