It's you against the field in a war of attrition, where endless perfect play can be spoiled by one mistimed mistake. You get to know the opposition, learning every nuance of their being, storing that information until you can use it against them, taking them out, ending their game. There may be friendly faces, but ultimately, every other player is your enemy because only one of you can win the big prize and when it comes down to it, you play to win. The rest be damned.
Poker, right?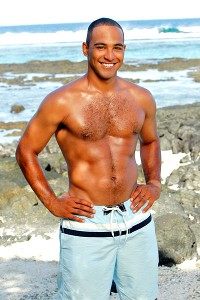 CBS Broadcasting Inc/Survivor Albert Destrade finished in the top three of "Survivor: South Pacific."
The names Albert Destrade and Jim Rice may not be familiar to poker fans. Both play. Both have found success at the felt. Destrade, a baseball coach by trade, earns the majority of his income through raking pots in South Florida's live games. Rice, a legalized marijuana distributor from Denver (yes, his twitter account was all a-Tebow this weekend), has managed assorted tournament scores, including a $116,555 win in a $2,000 buy-in Festa Al Lago preliminary event. Their success suggests they play poker well, but poker is not what got their faces on national TV; that would be the long-running reality show "Survivor."
Even if you don't watch it, you probably know what "Survivor" is: A group of 16-20 Americans covering a broad spectrum of age, gender, skill set, race, color and creed is given scant supplies and a stunning patch of unoccupied, undeveloped land in a tropical locale on which they're to build a society, all the while playing a game in which they vote out one of their own every three days. Numbers dwindle until two or three players are left standing, at which point, evicted players vote for their champion, who receives $1,000,000 for their trouble. While the game is the mechanism, it's the humanity which makes for good television. That's where our poker players come in.
"There is never a concerted effort to cast any specific type of profession on 'Survivor', but I don't think it's a coincidence that poker players make for such great characters," said host/executive producer Jeff Probst via email. "'Survivor' is the social politics equivalent of poker. It's a game about reading other people, learning their tendencies, showing them only as much as you want them to see, but letting them think they are seeing more than they should. In the end, as we say on the show, 'only one will remain' -- that is the essence of 'Survivor' and poker."
Destrade and Rice finished third and 12th, respectively, on "Survivor: South Pacific," the recently concluded 23rd installment of the reality show. Following in the footsteps of former players Jean-Robert Bellande and "Survivor: Redemption Island" champion "Boston Rob" Mariano, the two brought poker experience and knowhow to an altogether different social game.