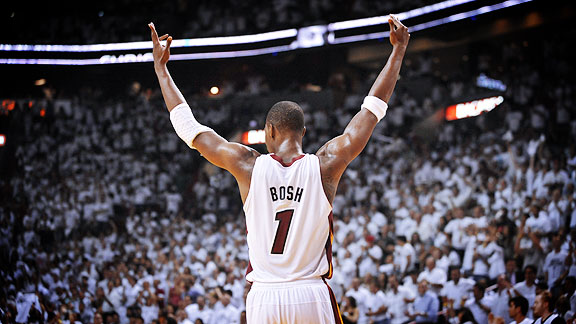 David Dow/NBAE/Getty ImagesBosh said, "It's not hard to imitate a used-car salesman if you grow up watching television in Dallas."
Next year, if the other team is there for the first time and looking at the lights, we're going to punch them in the mouth. They'll be down two nothing before they can blink.
I didn't play the way I was capable of playing last year because I was trying to figure out how to fit in instead of going out and playing.
You learn to respect team chemistry. It's the fourth quarter, there's two minutes left, the shot clock is winding down, and we're like, What do we do? We didn't have that flow. Chemistry comes down to repetition. It's not, We've played some games, we have chemistry now. You have to talk on and off the court, see mistakes, correct mistakes, learn tendencies. It's constant work, and it comes with time.
Your favorite coach is the one who constantly yells at you.
Everybody thinks tickets grow on trees.
That's what people say, that I was the catalyst. "Wherever he goes, the other two are going to go." I'm like, What? C'mon, man. I always put myself in a box when it's time to make huge decisions. I didn't even want to talk to them about it.
The moment he said those words, it was like: "Taking my talents" … what? But who cares, he was coming to Miami! We were in Miami, and Miami was on fire. We were all celebrating. It took a little while for me to realize, Ohhh, boy. There are people who did not take kindly to those words.
When I arrived at training camp, ESPN had set up shop and you'd hear, "Reporting live from training camp." I'm thinking, What are they doing? This is what they do for the Super Bowl, the World Series, the NBA finals. That was the we're-not-in-Kansas-anymore moment. And it was like that for the whole time.
To read the rest of the interview on esquire.com, check it out here.